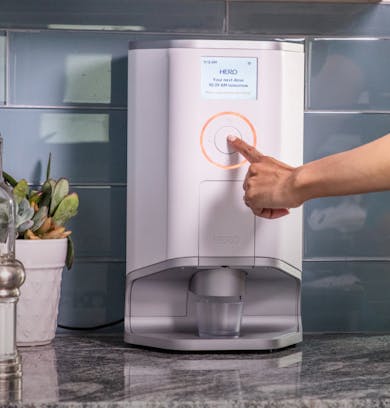 Your pills at the push of a button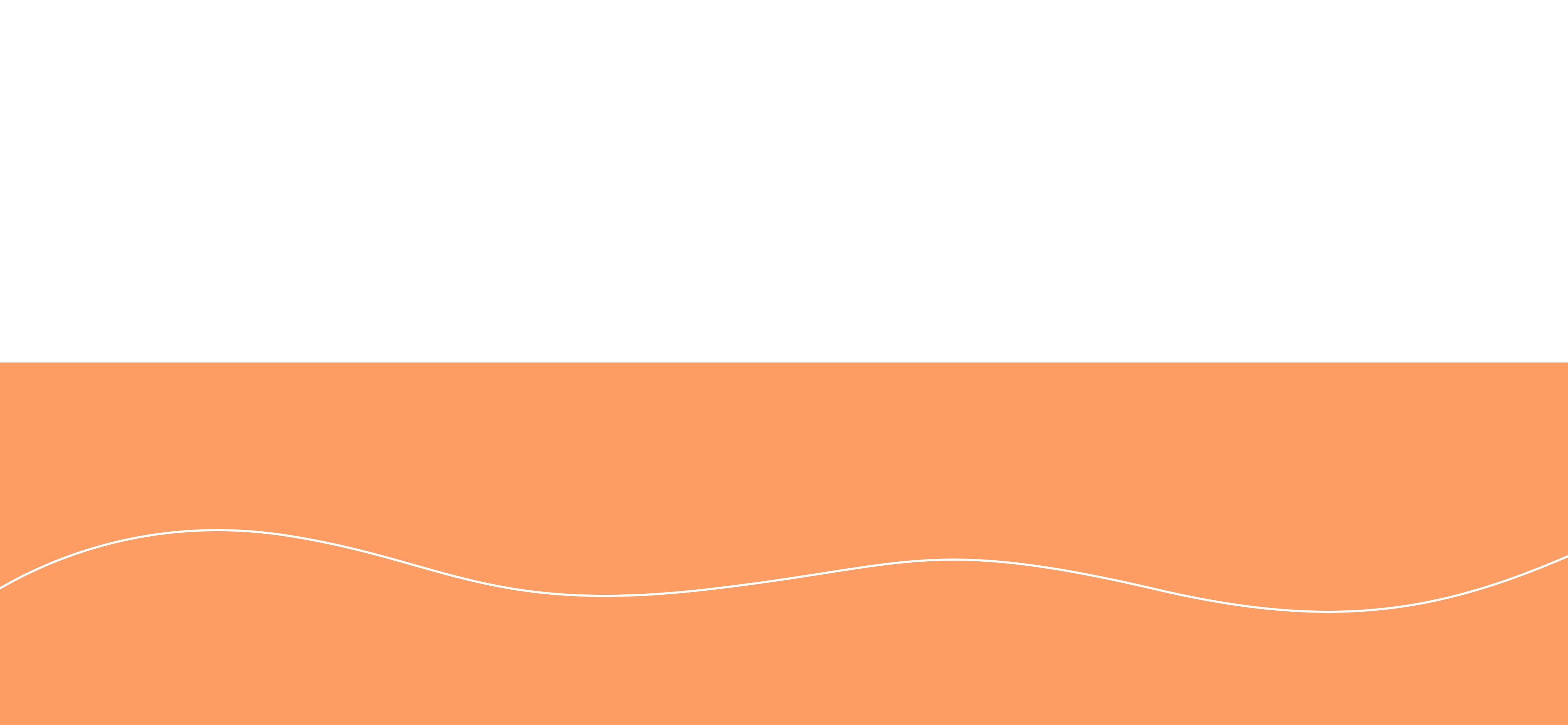 See how Hero makes med management easy
Got Medicare? You may be covered!
If you're 65+ and on Medicare, you could get Hero at little to no cost.*
*With a trusted provider. Coinsurance and copays may apply.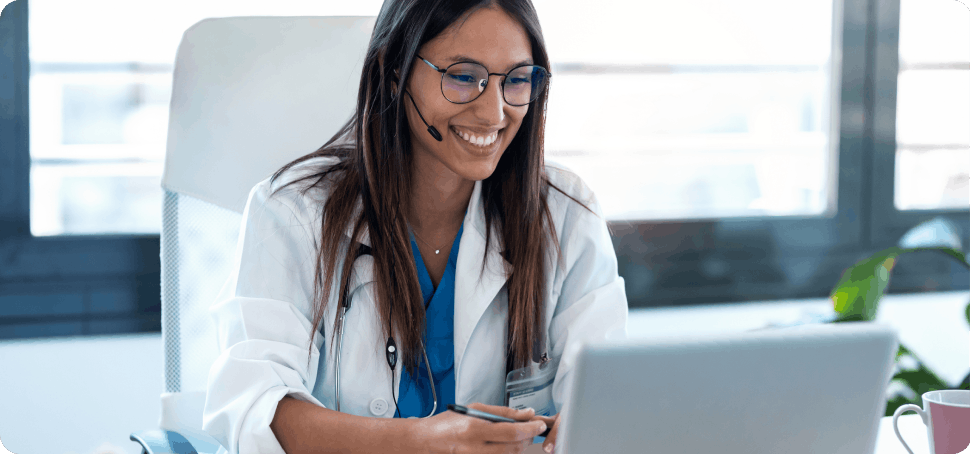 Medicare providers may now offer Hero at low to no cost as Remote Therapeutic Monitoring (RTM) services. RTM is used to deliver virtual care and support patients in achieving their med adherence goals.
I love hero! It has made my life so much easier. I spend less time worrying about my meds and more time living life.
Paula R Hero Member from Pennsylvania
Our smart dispenser holds up to a 90-day supply of 10 meds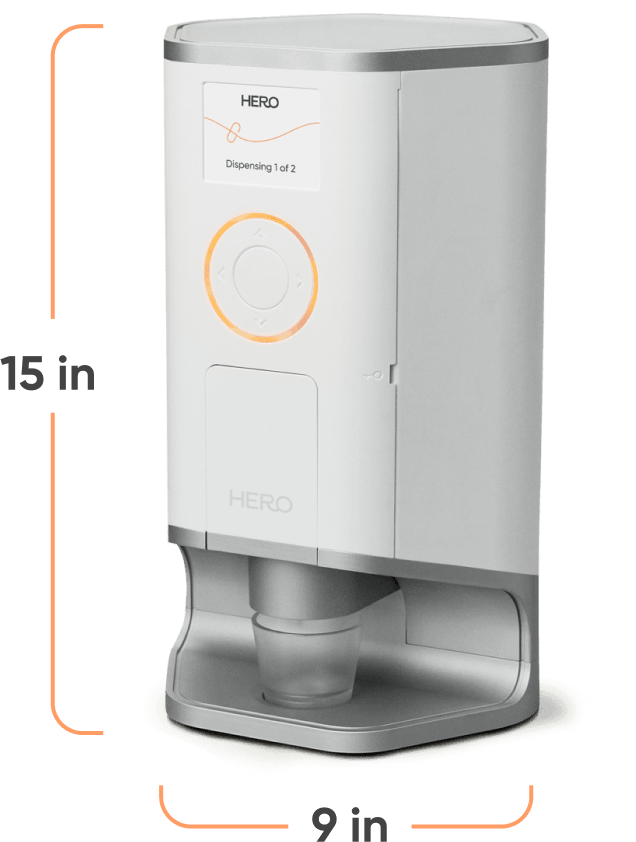 Hero's automatic pill dispenser alerts you it's pill time with a sound and blinking light. One button press dispenses your dose!
The app helps manage your meds remotely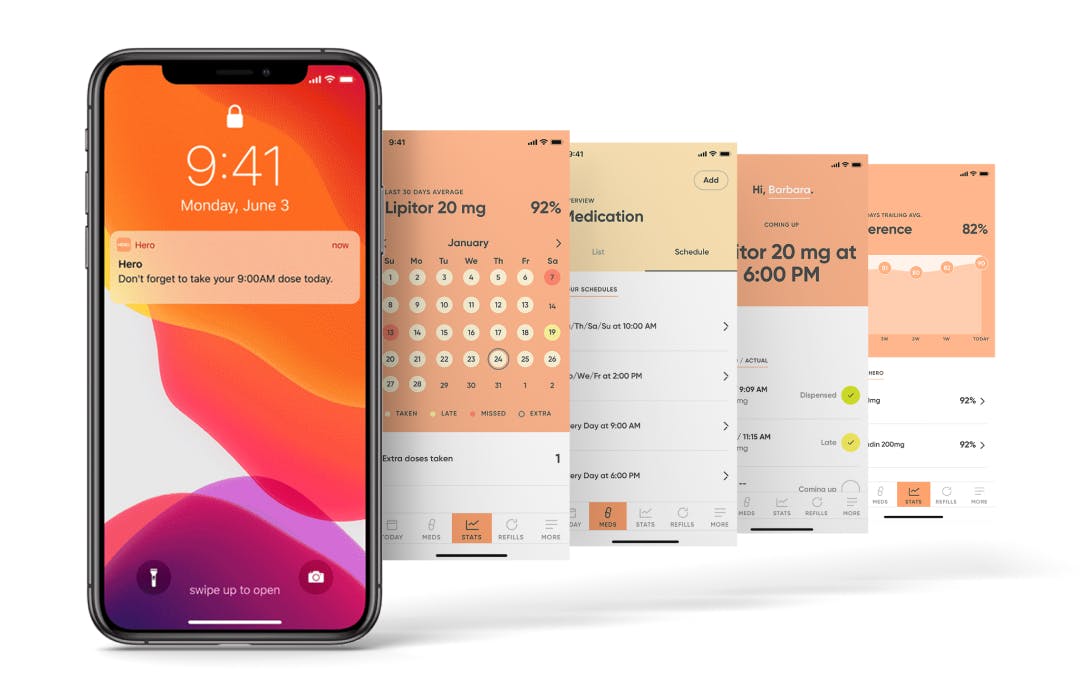 Our app tracks what you took and when, and helps you stay on track with missed-dose reminders and pills running low alerts.
Our Live Support team is available for you 24/7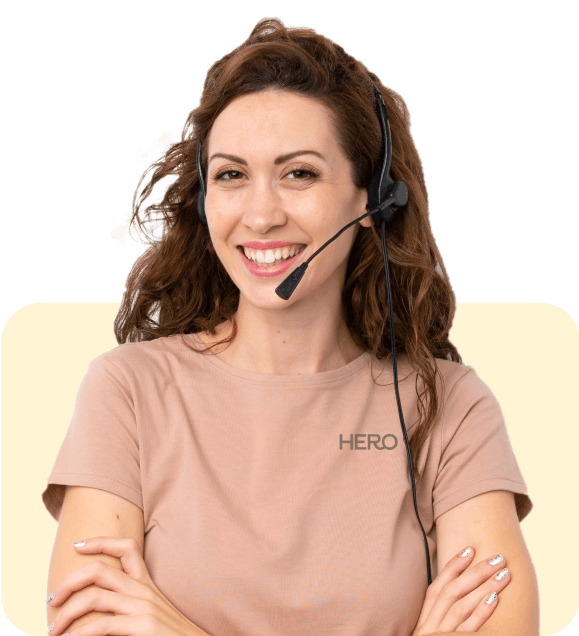 You can contact us via phone number (855-855-9962), chat or email (hello@herohealth.com).
FAQ
Remote Therapeutic Monitoring (RTM) is a service used to virtually monitor certain health conditions, as well as medication adherence. Hero has partnered with a network of trusted providers that provide at-home patient monitoring (RPM) and remote therapy monitoring (RTM) platform, to offer Hero as part of RTM services to eligible Medicare patients that need better medication management.
Eligible Medicare enrollees may be able to use Hero at little to no cost when offered as part of a Medicare-covered RTM service. Medicare copays and coinsurance may apply; if you choose to obtain RTM services from our trusted provider, the provider will tell you what you'll be charged before they enroll you in the RTM program.
No, a trusted provider does not replace your primary care doctor or specialist. Rather, they collaborate with your current doctors. When you enroll in RTM through a trusted provider, you keep your existing doctors – a trusted provider supplements them and collaborates with them.
There is no commitment period for Hero members that use Hero as part of a Medicare-covered RTM service. As long as you continue receiving RTM services, you will be able to continue using the Hero smart dispenser. When your RTM services end, Hero will send you a prepaid return label so you can send back the device at no cost.
Hero is approximately 9" x 9" x 15" (22.9 cm x 22.9 cm x 38.1 cm), and weighs about 10 lbs. It fits on any standard kitchen counter!